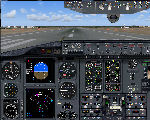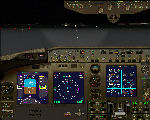 Two 2D panels for B737-400 and b737-800.
Main features:
-All gauges visible in an only screen (except for FMC, that requires a separate windows) keeping an excellent readabilty.
-Aircraft Virtual Cockpits adapted as far as possible.
-Antialiasing vectorial EADI/PFD which includes Autopilot annunciators, IAS trend indication, radio height and ground speed readout.
-Vectorial EHSI/MFD with multiple screen modes. Displays indication of distance to reach altitude selected in autopilot.
-GPWS and Traffic Info (FSX version only)
-Lateral and vertical navigation implemented via FMC.
-FMC that can manage flight plans created with Microsoft Flight Simulator FS9 or FSX, or any add-on which can export flight plans in the FS format. We have eliminated the complex way in what you have to plan your flight in current commercial FMCs implemented in some of the commercial airliners existing for Microsoft Flight Simulator but keeping the feeling of a real FMC-CDU
More informations here